Easybet's mission is to ensure that bettors have access to an impressive array of gaming options to suit their preferences. By providing sports betting, live sports betting, lucky numbers, virtual roulette, Easy Spins, and live dealer games, they cater to various interests and skill levels. Partnering with industry-leading companies like Evolution and BetGames allows Easybet to deliver an exceptional and immersive gaming experience for their users.
Easybet Overview
This comprehensive platform not only covers popular sports and gaming events but also introduces unique and engaging options, attracting a diverse audience of punters. The collaboration with international partners ensures that Easybet stays up-to-date with the latest trends and developments in the online gaming industry, thereby continuously expanding and enhancing their offerings.
Easybet's commitment to creating a user-friendly platform with a broad range of games appeals to both casual bettors and seasoned enthusiasts. The platform's flexibility and variety make it a one-stop destination for punters seeking an all-encompassing betting experience. Furthermore, the availability of live dealer games and real-time sports betting adds an extra layer of excitement and thrill, capturing the essence of live-action betting from the comfort of one's own home. Easybet also offer a data free app that you can access and play select games on without spending any data. Visit Easybet to see what's on offer.
Easybet Casino Games
Easybet offers a diverse selection of online slot games, featuring popular titles from renowned gaming providers like Pragmatic Play and AGT (Ainsworth Game Technology). This guide will provide an overview of these top gaming providers, as well as an introduction to some of their most popular slot games available at Easybet. At this time, they don't offer the Habanero slots that are so popular on Hollywoodbets Spina Zonke.
Pragmatic Play is a leading content provider known for its innovative, mobile-focused, and highly engaging slot games. Their portfolio boasts a wide range of themes and styles, ensuring that players can find a game to suit their preferences.
Top Pragmatic Play Slots at Easybet
Wolf Gold: Wolf Gold is a popular 5-reel, 25-payline slot game featuring a captivating wildlife theme. Players can enjoy the Money Respin Feature, free spins, and three different jackpots, providing numerous chances to win big.
Great Rhino Megaways: This 6-reel slot game offers an incredible 200,704 ways to win, thanks to the Megaways mechanic. Players can benefit from cascading wins, free spins, and an increasing multiplier, all set against a vibrant African savannah backdrop.
The Dog House: The Dog House is a 5-reel, 20-payline slot game with a playful canine theme. The game features sticky wilds, free spins, and multipliers, making it a fun and potentially rewarding experience for players.
Ainsworth Game Technology (AGT): AGT is an Australian-based gaming provider with a rich history of creating high-quality, innovative, and entertaining slot games. Their titles often feature unique game mechanics and captivating themes.
Top AGT Slots at Easybet
 Mustang Money: Mustang Money is a 5-reel, 100-payline slot game set in the American West. The game offers players free spins, multipliers, and wild symbols, providing ample opportunities for big wins.
Thunder Cash: This 5-reel, 20-payline slot game features a classic casino theme with vibrant lightning and thunder graphics. Players can enjoy free spins with sticky wilds and scatter symbols that lead to impressive payouts.
Eagle Bucks: Eagle Bucks is a 5-reel, 20-payline slot game inspired by North American wildlife. With its free spins, expanding wilds, and scatter symbols, players have numerous chances to win while enjoying the stunning visuals.
Pragmatic Play and AGT are two leading gaming providers offering a wide variety of entertaining and engaging slot games at Easybet. Whether you prefer the innovative gameplay of Pragmatic Play or the unique mechanics and themes of AGT, there's something for every slot enthusiast to enjoy. Try your luck at these exciting games and discover the thrilling world of online slots at Easybet.
Easybet Welcome Bonus and Promotions
Easybet is dedicated to providing a premium betting experience by offering enticing promotions and excellent customer service. They offer a generous R50 Sign Up Bonus and a 150% First Deposit Match for new users, making it an attractive platform for those just starting their betting journey. New players can click here to visit Easybet to claim the sign up offer. This approach helps build a loyal user base and encourages users to explore the platform's diverse gaming options.
Easybet Withdrawals and banking
Withdrawals are made seamless with the integration of Ozow, ensuring lightning-fast and hassle-free transactions. This focus on user convenience reflects Easybet's commitment to delivering a smooth betting experience from start to finish.
In addition to their promotional offers and efficient withdrawal system, Easybet takes pride in their highly trained customer support team. They are readily available to address any concerns or questions via email, live chat, or WhatsApp. This level of personalized support demonstrates their dedication to providing exceptional service and building strong relationships with their users.
The Gambler's Verdict on Easybet
By offering a comprehensive range of betting opportunities, competitive promotions, user-friendly withdrawal options, and attentive customer support, Easybet caters to the diverse needs and preferences of their users. Their commitment to providing a top-notch gaming experience helps establish them as a reliable and sought-after platform for bettors of all levels and interests. Visit www.easybet.co.za today to check their site out, or to sign up for an account. You can also check our list of the best slots sites in South Africa if you are looking to get your spin on!
Easybet FAQs
How can I update my mobile number on Easybet?
Log in to your Easybet account and click on BALANCE to access your account details.
Navigate to USER INFO, then select MY DETAILS.
Click CHANGE NUMBER under MOBILE NUMBER.
Input your new mobile number in the provided field and click CONTINUE.
A verification code will be sent to your new number via SMS. Enter this code and click SUBMIT.
You'll see a notification confirming the mobile number change.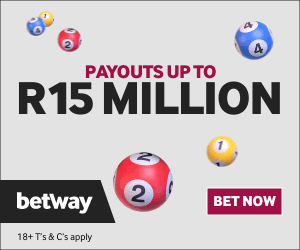 How do I sign up for an Easybet account?
Click JOIN at the top of the Easybet website.
Provide your mobile number, and you'll receive a registration code via SMS.
Enter the verification code and fill out the required personal details.
Create a password and enter it twice for confirmation.
Accept the TERMS AND CONDITIONS and click CREATE ACCOUNT.
Review your account information, including email and mobile number.
Complete the personal and banking details sections, then click COMPLETE REGISTRATION.
How can I deposit funds into my Easybet account?
Log in to your Easybet account and click on BALANCE to open the account menu.
Select DEPOSIT from the menu.
Choose a deposit option from the list provided. The selected option will be highlighted with a yellow dot.
Input the amount you wish to deposit and click SUBMIT.