South Africa has embraced online slot games, which have become a major part of online betting. In 2022, more online bookmakers in the country added games from developers like Habanero, resulting in high demand among players. Betway South Africa has responded by launching its own Habanero slots games, known as Betway Slots. The site also offers hundreds of other online slots from NetEnt and Red Tiger, with over 146 unique games available at starting at just 40c per spin.
Join Betway South Africa to play popular games like Hot Hot Fruit, Wealth Inn, Lucky Lucky, Nuwa and more! You can access the games on the Betway site or through the Betway App after registering.
Betway Spins Slots Games
Betway Spins Slots Games Features
Starting from 40c a spin
Play classics like Hot Hot Fruit and Wealth Inn
Over 200 Games on offer
Play from your phone or the Betway App
Author : The Gambler
Betway Spins Slots Games Basics
Game Type :

Slots, Spina Zonke

Software :

Evolution Gaming, Habanero, Pragmatic Play, Red Tiger
Where to find slots on Betway South Africa
Finding Betway Slots on Betway is simple. If you are new to Betway, follow these steps to start playing:
Register with Betway South Africa using Promo Code GMB.
Log in to your Betway account and go to the "Casino Games" section from the main menu.
Click on "Slots" to view the full collection of Betway Slots games.
With these easy steps, you'll be enjoying the excitement of Betway slots in no time!
How to play Slots on Betway South Africa
Setting your bet amount before spinning the reels is crucial when playing Betway slots. Here's a step-by-step guide on how to adjust your bet size:
Choose a game and click "Play Now".
Wait for the game screen to load.
Check the paytable to see the payouts for different symbol combinations.
Click "I Accept" to start the game.
Click the coin pile icon below the game screen to access your Bet Settings.
Use the '➕' and '➖' buttons next to "Bet Level" and "Coin" to adjust your Total Bet per spin. "Bet Level" ranges from 1 to 10, while the "Coin Size" ranges from 0.02 to 2, offering a variety of betting options.
Click the '▶️' button to spin the reels and start the game.
Match symbols to create winning combinations based on the paytable.
Enjoy playing responsibly.
Remember, "Bet Level" and "Coin" determine your bet size for each spin. Keep these in mind when adjusting your bet amount.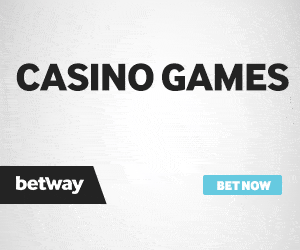 Betway slots bonuses and features
Betway Spins Games come with unique bonuses and features that can be activated during gameplay. Some games, like "Hot Hot Betway", "Return to the Feature," "Christmas Gift Rush," and "Orbs of Atlantis," allow players to purchase features, such as free spins, bonus games, and multipliers that can lead to substantial wins.
Betway slots are fantastic
The introduction of Betway Slots to Betway's platform is a great news for South African slot game enthusiasts. With an impressive selection of games that are easily accessible on mobile devices, Betway Spins offers an enjoyable experience. Visit the Betway site to see these slot games in action, and for more information about what Betway has to offer, check out our in-depth Betway review.
Betway Hot Hot Fruit
Betway Hot Hot Fruit Features
75c a spin
Hot Hot Feature and Free Spins Bonus Game
The most popular slots game in South Africa
Available on Betway
96.74% RTP
Betway Hot Hot Fruit Basics
Game Type :

Slots, Spina Zonke

Software :

Habanero