In an effort to capitalize on the rising popularity of online slots in South Africa, Betway recently added Habanero, NetEnt, and Red Tiger games to its platform. As a result, fans of Betway are no longer forced to play slots at Hollywoodbets or Supabets. Players may select from 146 new slot games on the Betway website for as little as 40c per spin with just a Betway Spina Zonke login. Several South African gamblers enjoy playing slot machines, thus Betway, also known as Betway Spins or Betway Slots, has responded by providing a huge assortment of slots like Spina Zonke. Click here to visit Betway if you want to try these games out for yourself, or continue reading for more details. We'll go over how to use your Betway Spina Zonke login to access your online account and start playing the newest Betway slot games in South Africa below.
Betway Spina Zonke Login Guide
Betway South Africa has teamed up with Habanero, the creators of Hollywoodbets Spina Zonke games, to bring you all your favorite slot games on their platform. In addition, Betway offers excellent slot games from NetEnt and Red Tiger that you can play.
To access the Betway Spina Zonke games, you must first have an existing Betway South Africa online account and complete your Betway Spins login. If you don't have one yet and want to play the games, here's how you can open a new Betway South Africa account:
1️⃣ Go to the Betway South Africa website at www.betway.co.za
2️⃣ Click the green "Sign Up" button to initiate the Betway registration process.
3️⃣ Use the Sign Up Code GMB at the bottom of the Betway registration page.
4️⃣ Fill in all the required information and click "Register" to complete the Betway registration.
5️⃣ Select "Casino Games" from the main menu.
6️⃣ Click on "Slots" to enter the Betway Spina Zonke lobby.
7️⃣ Click on any icon to load the game you wish to play.
8️⃣ Choose "Play Now" to play for real money or "Free Play" to try the game for free.
If you already have a Betway account then all you need to do to access the Betway Spina Zonke Games is login. Click here to go to the Betway login page where you will be required to enter your Betway username / mobile number and password. Once you've logged in you'll have access to all the Betway Spina Zonke games.
After your Betway Spina Zonke Login – Finding the games
The Betway Spina Zonke slot games can be found in the Casino Games section on the Betway website. Once you've logged in to your account, click "Casino Games" and select the "Slots" tab from the game categories menu. Popular Betway Spina Zonke slot games like Hot Hot Fruit, Wealth Inn and Lucky Lucky are listed at the top of the page. As you scroll down, you'll find a total of 146 Betway Spina Zonke slot games, each with different themes, betting options, paylines and bonus features.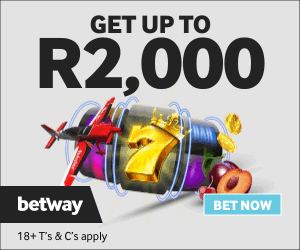 Betway Spina Zonke Download
The good news is that you don't need to download any software or apps to play Betway Spina Zonke on your phone or desktop. Simply register with Betway South Africa and log in to your online account to start spinning and winning with Betway Spina Zonke! You can also download the Betway App from the Betway site if you'd like to play the games on an app rather than on a mobile site.
Where else can I play slot games in South Africa?
Online slots are now available on three recommended betting sites in South Africa: Betway, Hollywoodbets Spina Zonke, and Supabets. At Hollywoodbets, you can play the same Habanero titles available at Betway, as well as Pragmatic Play and Yggdrasil games.
Betway Spins Slots Games
Betway Spins Slots Games Features
Starting from 40c a spin
Play classics like Hot Hot Fruit and Wealth Inn
Over 200 Games on offer
Play from your phone or the Betway App
Author : The Gambler
Betway Spins Slots Games Basics
Game Type :

Slots, Spina Zonke

Software :

Evolution Gaming, Habanero, Pragmatic Play, Red Tiger